Ilona Sakovich, Events Manager

Ilona Sakovich - Events Manager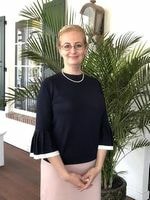 Ilona has over 20 years of experience in hospitality, marketing, event design, coordination of public and private events.
Ilona has worked with some of the most exclusive venues in Tampa Bay area and beyond. Her entertainment portfolio includes many national and international acts.
Ilona holds BA in marketing and psychology from Flagler College, as well as MS from USF.
Click here to send her an email