Hole 1
Optional back tees make for an interesting opening tee shot. From the back tee across the wetland the hole plays shorter, but much more difficult from this starting point. The player is faced with a forced carry over the expansive wetland with a large sentinel oak tree standing between the tee and safe ground beyond. This will require precise shotmaking to negotiate this obstacle. An aggressive play between the tree and fairway bunker along the wetland edge will be rewarded with a short iron to the green. Bailout right around the tree and a mid to long iron approach to a green tucked on the wetland edge will be the result. The alternate tee positions around the wetland provide the mid-to-high handicap player a less daunting route to the hole. With the added length from this position, distance off the tee will be justly rewarded.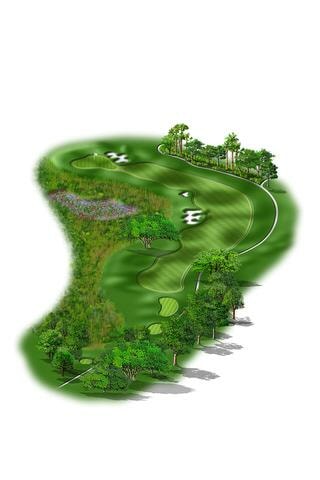 Hole Graphics Produced By
Players' Book Publications, Copyright 2005"