J. Hamilton Gillespie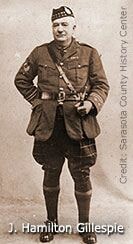 Where it all began...
The Founder of a City and A Game
Born in 1852 in Edinburgh, the reputed birthplace of golf, J. Hamilton Gillespie inherited an heirloom set of golf clubs at the age of eight, and in grand fashion grew to become a true pioneer in the game.
Gillespie's visionary spirit brought him to what is known today as Sarasota, then consisting of little more than a company store and a dusty trail. Soon after his arrival, he carved the land behind his home into a two-hole golf course - giving Sarasota its self-declared claim to the first golf course in America and Gillespie local acclaim as the "Founder of Golf".
Gillespie was credited with founding not only golf, but also the city of Sarasota, with his passionate spirit and Scottish brogue. Serving six terms as mayor, he was instrumental in the development of Sarasota commerce, along with building a second nine-hole course and Sarasota's first golf clubhouse.